This page contains links to recent articles on Italy and Italian society or culture that were written or published in English, and that have some relevant connection to the topics discussed in this class. The article included here are organized blogger-style, with the most recent on top. All readings from this page, unless indicated otherwise, should be treated as "suggested readings."
Articles from The New York Times may require free registration. Articles from Italian newspaper on rare occasion are removed from public view after a certain period of time. The same may happen to the outside images accompanying the excerpts of the articles.
Remember also that, depending on the configuration of your browser, you may have to hit "Refresh" or "Reload" on your next visit in order to update the contents of this page.
"At Italy's Operas, Fat Ladies Are Quiet"
The New York Times, May 4, 2010
"Opera houses across Italy are canceling performances because of sputtering strikes over efforts by the government to reorganize their administration. [...] The strike is part of a long-running drama involving Italy's main opera houses, which are almost all dependent on government financing and frequently suffer labor stoppages or the threat of them. The fight bears the hallmarks of Italian life: powerful unions holding fast to long-held privileges, a struggle between local and central control, and seemingly wrongheaded fiats from Rome." Click here to read the whole article.
"Pondering The German Question"
The New York Times, May 3, 2010
"Here it is again, The German Question. In fact, it's German Questions, plural, and fateful enough for Europe and the euro's future to merit the capital letters. The Frankfurter Allgemeine Zeitung offered up a version last week in an interview with José María Aznar, the former Spanish prime minister. 'Is the Greek crisis proof that Germany has become selfish, nationalistic, and less European?' the newspaper asked. [...] The German Question these days has other, considerably more biting formulations. Ulrich Beck, a sociologist at the Ludwig Maximilian University in Munich and the London School of Economics, offered two. 'Does Germany consider that the time has come to defend itself against Europe's excessive clutches — the German model of success against its jealous European neighbors?' he asked. And: 'Has the united Europe referred to in the German Constitution's preamble stopped being the lodestar of the Germans' vision of themselves and German politics?'." Click here to read the article.
"A Faded Relic of Christendom Reappears"
The New York Times, May 3, 2010
"Ten years after the shroud last went on display, nearly two million people have made reservations for a timed glimpse of the religious object (five minutes on weekdays, three on weekends, depending on the bookings, though the labyrinthine line can take well over an hour). For most of them, the bearded man is Jesus Christ and the 14-foot-3-inch by 3-foot-7-inch linen cloth now encased in a bulletproof frame is his burial shroud. It is one of the most venerated — and contentious — relics of Christendom." Click here to read this article.
"Europe Under the Ash"
The New York Times, Apr. 23, 2010
"Stereotypes are awful, it's true, although Europeans cheerfully indulge in them, about themselves and each other, all the time. Treacherous though they can be, different responses to Eyjafjallajokull nonetheless underscore, if nothing else, just how diverse Europe remains, culturally speaking, and how occasionally fractious is the unity of the European Union that ostensibly binds much of the continent together. [...] The volcano. Nature has devised the perfect metaphor for the burden of unionhood, forcing Europeans to recognize, like it or not, that they are bound together, a family of nations, albeit with Iceland as the exceptional and slightly alarming cousin at the end of the dining room table who still believes in elves. According to Interfax, the Russian news agency, an organization called the Association of Orthodox Experts piped up during the Eyjafjallajokull crisis in an attempt to link the volcanic ash to Iceland's role as a "center of European neo-paganism of an Aryan occult kind." [...] Whatever. The point is that families have to pull together when there's trouble, as did those Italians stuck in Victoria Station in London. They found each other, bonded, hired a van and drove back home. One of them then wrote to an Italian newspaper about rediscovering "the great spirit of solidarity" that had previously seemed lost in the country. It's another Italian stereotype: only notionally a nation much of the time, a family in a pinch." Click here to read the whole article.
"Coney Island Getting a $30 Million Italian Makeover"
The New York Times, Apr. 23, 2010
"The nuts and bolts of the business — its administration as well as its main manufacturing activities — are at the headquarters near Vicenza, an industrial district that is the third-largest exporting center in Italy, according to the local chamber of commerce. A stroll though the headquarters at Altavilla Vicentina hints at the complexity of producing amusement park rides for the world's theme parks, including various Disney Parks ("In our business, it's the best reference you can have," Mr. Zamperla said), Six Flags theme parks and malls worldwide. Even the late Michael Jackson's Neverland Ranch has Zamperla rides." Click here to read this article.
"D.I.Y. Culture"
The New York Times, Apr. 14, 2010
"Years ago a language like Cimbrian, a Bavarian dialect today preserved by just a few hundred speakers in northern Italy, would have been doomed to extinction; now Cimbrian speakers, according to a recent German newspaper article, turn out to be getting their own online newspaper and television show. The language is being sustained by the same global forces that might promise to doom it." Click here to read this article.
"Mangia, Mangia!"
The New York Times, Apr. 11, 2010
"I am [...] willing to risk death for a chance not only to eat real, true authentic Italian food but to do so with real, true authentic Italians — to learn not just what the citizens of this most food-proud nation consume but how and why. Restaurants are great, but they don't give transient tourists much opportunity to establish a relationship with the people making and serving the food. No, if the family is the fundamental social unit in Italy, then family meals must be the fundamental way to experience Italian society. You just have to have an in." Click here to read the whole article.
"As I Am Egypt's Queen"
The New York Times, Apr. 1, 2010
"it wasn't until Julius Caesar arrived in 48 and applied his leverage that she took undisputed power. Then, too, began the chain of events that molded her legend — the murder of Pompey by her brother and her ingratiating alliance with Caesar; the son she claimed was his; her presence in Rome when he was assassinated; her intricate intrigues, private and otherwise, with Marcus Antonius and the twins she bore him; her joint defeat with Antonius at the hands of Octavian in the Battle of Actium; her suicide. Little wonder she was taken up by poets, painters and Elizabeth Taylor." Click here to read this short book review.
"II Duce as Young Lover: The Making of a Dictator"
The New York Times, Mar. 19, 2010
"'The mass loves strong men,' Benito Mussolini once said. 'The mass is female.' In 'Vincere,' a sustained, alternatingly exhausting and aesthetically exhilarating howl of a film, the veteran Italian director Marco Bellocchio brilliantly personalizes Mussolini's rise to power through a fictional retelling of his seduction and catastrophically violent betrayal of his reputed first wife, Ida Dalser. Like much of Italy, Dalser abandoned herself to him body and soul. The film's title — a reference to a popular Italian Fascist song — means to win, as in to defeat, vanquish, surpass. 'Win, win, win!' Fascist soldiers would sing, as Il Duce aroused the populace. 'At any cost!'" Click here to read the article.
"Reopening of Palazzo Grimani Revives Memory of Creator"
The New York Times, Mar. 16, 2010
"The Renaissance rediscovery of ancient art and architecture also led to the revival of another Greek and Roman concept — the museum. That Venice was a leader in the refounding of these institutions was primarily thanks to two patrician Venetian collectors, Domenico Grimani and his nephew Giovanni, who in the 16th century gave the city two pioneering museums." Click here to read the article.
"Is the U.S. Following in Rome's Footsteps?"
The New York Times, Mar. 12, 2010
"A friend who lives in India told me the Indians consider the Chinese their rival for top nation this century. They regard us as already buried. Recent polls have shown that Americans too believe that China will surpass us in global importance. It's true I see no way we will avoid a fiscal catastrophe, and I hear smart economists debating how bad the catastrophe will be: Rome or merely Spain? Can this be true? Is the nation of perpetual youth really on the path to old age?" Click here to read the article.
"'Tuscan Sun' author on Italy's pleasures"
CNN.com, Mar. 10, 2010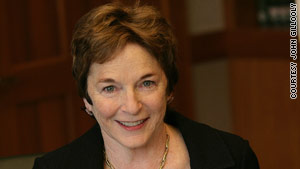 "CNN: Can you explain the magic of Tuscany?
Mayes: The initial thing is the landscape. It's largely man-made in a way because over the centuries, it's been farmed so much. So those terraced hills of olive trees and the punctuation points of the cypress and the wonderful silhouettes of the hill towns — all those things are imposed upon a landscape that is already beautiful. The second thing is, people really respond to the Italians. In our town, even though partly because of my books we've had a lot of tourists there in the past 10 years, somebody who comes there can still make great contact with the local people. If you break down in your car and knock on a door, you're going to be invited in for lunch if it's time for lunch. The third thing would have to be that the Renaissance did happen there and there's so much art. Every little town, no matter how small, will have its treasure, and that sense of connection with art is so profoundly nourishing to the spirit, you don't even know that you lack it until you go there and you feel the beauty of the architecture." Click here to read the article.
"'Spartacus': 'Rome' on steroids, Viagra and crack"
Salon.com, Mar. 6, 2010
"Apparently, back in 73 B.C., human beings were gigantic and horny and all they did was have great sex and slash each other with steely blades, resulting in big bursts of blood that splashed everywhere. Hurray! It seems that ever since that time, humans have steadily grown more vague and sullen, losing more muscle mass and joie de vivre each century that they walked the earth. With each passing decade came another reason to slouch and feel discouraged: the spinning wheel (ouch), barbed wire (drag), pasteurization (enough already), the electric nose-hair clipper (please). All of it led up to where we are today, namely, watching 'House' while sobbing into a laminated cup of cherry Jell-o." Click here to read this article.
"Tuscany Without the Crowds"
The New York Times, Mar. 7, 2010
"Forget the magazine covers that promise 'The Undiscovered Tuscany!' 'The Hidden Tuscany!' 'The Secret Tuscany!' When a place has been attracting admirers for more than a thousand years, no square inch is undiscovered. The real Tuscany, as locals have been telling me over the years, is found in the dead of winter, when the crowds are thinner and the rooms, flights and restaurants are pleasantly cheaper. That's what brought me — along with my husband and our new baby — back to the Val d'Orcia in December. We came to visit friends who live here and to experience a Tuscany populated only by Tuscans." Click here to read this article.
"Waste in Campania - Ruling against Italy for Endangering Human Health and Environment"
Corriere della Sera, Mar. 5, 2010
"'Neither the opposition of the local inhabitants, nor the failure to honour contractual obligations, nor yet the presence of criminal activity, constitute a situation of force majeure which could justify both the failure to fulfill obligations under the directive and the failure to have the requisite facilities up and running on time", says the ruling." Click here to read the entire article.
"European Parliament Wields a Wider Influence"
The New York Times, Mar. 4, 2010
"During tense talks on an international data-sharing deal last month, Hillary Rodham Clinton, the U.S. secretary of state, did something probably none of her predecessors needed to do: she picked up the phone and called the European Parliament. Although a vote on the issue ultimately went against her, Ms. Clinton's aides may need to keep that phone number handy. The Lisbon Treaty, which was introduced in December by the 27-country European Union, gave wide new powers to the bloc's directly elected Parliament, making it a newly influential player, analysts say." Click here to read the whole article.
"When American and European Ideas of Privacy Collide"
The New York Times, Feb. 26, 2010
"'Americans to this day don't fully appreciate how Europeans regard privacy,' said Jane Kirtley, who teaches media ethics and law at the University of Minnesota. 'The reality is that they consider privacy a fundamental human right.' [...] 'The framework in Europe is of privacy as a human-dignity right,' said Nicole Wong, a lawyer with the company. 'As enforced in the U.S., it's a consumer-protection right." Click here to read the article.
"Three Google Executives Convicted in Disabled Boy Harassment Case"
Corriere della Sera, Feb. 24, 2010
"The court of Milan has convicted three Google executives charged with defamation and invasion of privacy for failing in 2006 to prevent publication on the search engine of a video that showed a boy with Down's syndrome being insulted and beaten by four students at a Turin technical institute." Click here to read the whole article.
Attila
The New York Times, Feb. 17, 2010
Famous director Riccardo Muti is bringing a rarely performed opera by Giuseppe Verdi to New York City's Metropolitan Opera. The political undertones of the libretto may not be immediately evident to a modern audience. "'I find Attila a very mysterious but exquisitely defined score,' Mr. Muti said. 'In the prologue, as the Roman general Ezio plots with Attila to divide up the empire between them, Ezio sings, 'Avrai tu l'universo, resti l'Italia a me!' 'You can have the universe, leave Italy for me!' One can just imagine the effect that line must have had in 1846, delivered by the baritone over his full octave-and-a-half range. The first performance stopped dead and the audience went absolutely crazy." Click here to read the whole article.
Conspirata
The New York Times, Feb. 16, 2010
"Barack Obama's worst day is a sugary cakewalk compared with what the Roman consul Marcus Tullius Cicero endures in Conspirata, a portrait of ancient politics as a treasonous blood sport in which more — much more — than health care reform is on the line. Cicero must regularly foil death threats, his vestibule patrolled by a fearsome guard dog; his front door barricaded against invaders; and his wife, Terentia, alternately moping about the danger and questioning his response to it. Many of his supposed allies are really wolves in sheep's togas, and the spies Cicero plants in enemy camps sometimes prove cowardly or inconveniently mortal. One, a woman, winds up gutted like a fish. While they were sharp with words around the Roman Senate, they were even sharper with daggers. Will Cicero survive, entrails intact? What of the Republic he governs?" Click here to read the whole book review.
Carnevale in Venice: Fat Saturday
Corriere del Veneto, Feb. 2010
Click here to see a slideshow on this year's Carnevale in Venice.
"Contemplating the Future of the European Union"
The New York Times, Feb. 12, 2010
"In 1870, the French novelist Victor Hugo had a vision. Planting an oak tree in his yard, he predicted that by the time it matured, a 'United States of Europe' would have sprung up, strengthened by a common currency that would one day make the Continent a force to be reckoned with. One hundred and forty years later, the dream, like Hugo's tree, is alive - if a little twisted. Around Europe, 27 nations now fly the flag of the European Union next to their own. Sixteen have ditched the drachmas, marks and other bills that symbolized their sovereignty to embrace a single currency, the euro, lending new power to their economic and trade bloc. All that is now being called into question, however, as European leaders struggle to prevent ruinous spending by Greece from spiraling into a wider crisis or even breaking up the euro union. How they handle this problem could either propel Europe to greater economic and political clout in the decades ahead, or downgrade it to a sideshow in a global economic theater directed by China and the United States. " Click here to read the article.
"Guardian Slams Zaia's McItaly Burger"
Corriere della Sera, Feb. 3, 2010
"If anyone had said a few years ago that a leading Italian politician, and Northern League member since the early days, would put pen to paper in defence of a McDonald's product, you probably wouldn't have believed it. But that is precisely what has happened in the past few days. The Guardian's food critic and lover of Italian cooking Matthew Fort... wrote a passionate article, posted on the British newspaper's website, in which he attacked Italy's agriculture minister Luca Zaia for praising and promoting McItaly, the fast food chain's new all-Italian burger." Click here to read the article.
"McDonald's launch McItaly burger"
The Guardian, Jan. 28, 2010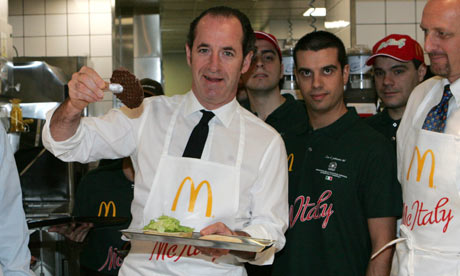 "An Italian once said to me, 'the trouble for you foreigners is that Italians speak in dialect and eat in dialect.' It is a problem. Even Italians from different parts of the country can have difficulties understanding each other. But it is also a delight. Italy has enjoyed a food culture of unparalleled richness and diversity. For many Italians, their very sense of identity lies in the food, not just of the region in which they were born, but of the town, village, hamlet, even house. And they hold to the superiority of their local produce and dishes with passion. That is why eating your way round Italy is such a continual delight. Pleasure lies in diversity, not homogeneity. Who wants to eat the same stuff the whole world over? It's boring." Click here to read the article.
"Italy's African Heroes"
The New York Times, Jan. 24, 2010
Roberto Saviano, the author of Gomorrah: A Personal Journey Into the Violent International Empire of Naples' Organized Crime System has written about the recent riots in Rosarno. "This month, rioting by African immigrants broke out in Rosarno, in southern Italy, after at least one immigrant was shot with an air rifle. The riots were widely portrayed as clashes between immigrants and native Italians, but they were really a revolt against the 'Ndrangheta, the powerful Calabrian mafia. Anyone who seeks to negate or to minimize this motive is not familiar with these places where everything — jobs, wages, housing — is controlled by criminal organizations." Click here to read his article.
"A Line Both Spirited and Firm"
The New York Times, Jan. 21, 2010
"At his peak, in the 1550s, Bronzino was the most influential painter in Florence. And although his reputation went into eclipse, it never went away. By the 20th century he was back. In Henry James's 1902 'Wings of the Dove' a Bronzino portrait of a noblewoman, 'with her long neck, her recorded jewels, her brocaded and wasted reds,' is the culminating symbol of evanescent magnificence around which that deeply mannered novel turns. Why, given his fame, this artist has had to wait some 500 years for a museum solo is a puzzle. But that solo, called 'The Drawings of Bronzino,' has now arrived at the Metropolitan Museum of Art." Click here to read the whole article.
"Senate Approves Short Trials Amid Protests"
Corriere della Sera, Jan. 21, 2010
"The PDL-inspired law will spell the end of hundreds of thousands of trials currently under way. Inevitably, however, debate focused on the Mills and Mediaset trials which involve the prime minister and will come to a halt when bill 1880 is approved in the Chamber of Deputies" (Dino Martirano). Click here to read this short article.
"Looking Past the Facade of Italian City After Riots"
The New York Times, Jan. 12, 2010
As Rachel Donadio points out, "the worst immigrant rioting ever seen in Italy — shocking here not only because of the anger of migrants, some of whom clashed with local residents, but also for the attacks on them by townspeople — cuts to the heart of the nation's difficult evolution from a place of emigrants to one of immigrants." Click here to read this eye-opening piece.
"Race Riots Grip Italian Town, and Mafia Is Suspected"
The New York Times, Jan. 10, 2010
"The images emerging from Calabria over the weekend — of torched cars and angry African immigrants hurling rocks — were the most vivid example of the growing racial tensions in Italy, which have been exacerbated by an economic crisis whose depth has only recently been acknowledged in the national dialogue. Both the official and underground economies increasingly rely on immigrants, while Italy remains torn between acceptance and xenophobia" (Rachel Donadio). Click here to read the article.
Last updated on 05/04/10. Fedi &copy 2010
This site is owned and managed by Dr. Andrea Fedi, Department of European Languages, State University of New York at Stony Brook.